---
Degreaser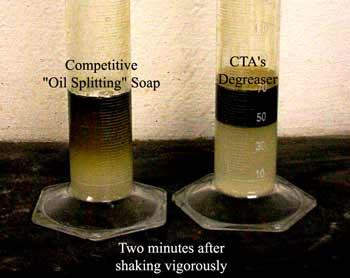 A comparison of CTA's Degreaser on the right and a competitive "oil splitting" product. The picture above was taken just two minutes after vigorously shaking both cylinders. Note the complete lack of a rag layer between the oil and water with the CTA product.
Key Benefits
Designed with the toughest jobs in mind, combining the newest available surfactant technology with the same alkaline builders that have been used for decades for truly tough grease removal.
Due to the new surfactant technology, Degreaser can lift oil and grease from the surface without forming stable emulsions.
Quick and Easy application
Degreaser is particularly suitable for use in areas where oils and greases must be skimmed or separated from the water for discharge.
Viewing these files requires Adobe Acrobat Reader
Click the link below to download the reader