Simply The Best Car and Truck wash available today! Nothing else needs to be said.

The same fabulous road-film removal as Super Foam but with controlled foam for oil splitting and skimming.

The absolute best all around cleaner/degreaser. Formulated specifically to take on the toughest soils while protecting delicate surfaces. This product (like Spray Wash) is particularly suitable for use in areas where oils and greases must be skimmed or separated from the water for discharge.

CTA's strongest and most alkaline cleaner. This is truly the sledge hammer of alkaline degreasers. When nothing else will get the job done, order Degreaser. This product is not suitable for all surfaces and care must be taken during application to protect personnel and vulnerable metals such as Aluminum. Degreaser (like Multi-Clean and Spray Wash) is perfect for use with oil skimming/splitting equipment.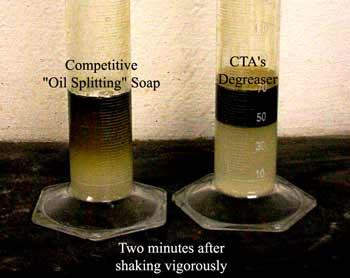 All products manufactured by CTA will exhibit similar results in oil splitting comparisons.
LIMITED WARRANTY AND DISCLAIMER
CTA Products Group warrants that their products conform to the chemical description listed in the respective Material Safety Data Sheet and are reasonably fit for the purposes referred to in the Directions For Use listed on the product labels and in the Technical Data Sheets. Buyer assumes all risks of use and handling not in strict accordance with The directions provided. CTA Products Group makes no other express or implied warranty of fitness or merchantability. To the extent allowed by state law, neither CTA Products Group nor the seller shall be liable for damages resulting from the use or handling of their products not in accordance with the directions provided. CTA Products Group and Seller offer their products and the Buyer and User accept them, subject to the foregoing Limited Warranty and Disclaimer which may be varied only by agreement in writing signed by a duly authorized representative of CTA Products Group.