Click on the links below for more information about CTA's wood products.
Outlast Q8 Log Oil is an EPA registered wood preservative specifically designed to control decay causing organisms (and mold, termites, powder post beetles) in log homes and on wood siding. It provides unsurpassed water repellency and sheer trans–oxide color with one coat coverage. Outlast Q8 Log Oil is a totally non-film forming EXTERIOR treatment that will never crack or peel. The solution soaks into the wood to provide protection, not just on the surface, but also deep into the wood cell structure.
---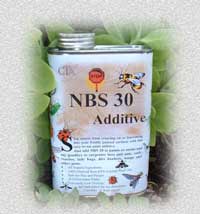 Carpenter Bees? Ladybugs? Wasps? Carpenter Ants driving you crazy? Try NBS 30 the next time you paint, stain, or treat your Log Home, Deck, or house. NBS 30 Paint Additive is designed for use in exterior coatings and will deter and inhibit insects from burrowing through or crawling on exterior coatings. NBS 30 Additive is soluble or dispersible in commercial oil and water based exterior paints and stains.
---

THE PERFECT PRODUCT for cleaning new and old Log Homes prior to staining or treating. Oxo removes MILL GLAZE from new logs to insure the longevity of your stain or treatment. Oxo Wood Cleaner is a highly concentrated product formulated specifically for brightening wood and removing unsightly stains—especially iron stains—from Log Homes, wood fences, decks, roofs and furniture.
---

The perfect product for restoring old, weathered wood to like-new condition. Restore is a highly concentrated product formulated specifically for cleaning mildew, moss, and unsightly stains from wood fences, decks, roofs and furniture. Restore is also extremely effective in cleaning asphalt composition roofing to remove algae and moss. Proper application of Restore can bring back even the most dingy gray wood to a like-new appearance. Some applications to Redwood and Cedar may benefit from subsequent treatment with Oxo to brighten the wood back to its original color.
---

This cost-efficient product is now available in concentrate and ready-to-use versions and three beautiful colors: Original Golden Toner, Red Maple, and Walnut. Outlast is the perfect blend of resins, waterproofing agents, UV inhibitors, and semi-transparent iron oxides in a base designed to stop the unsightly graying of wood even as it brings a halt to the warps, checks, and splits of unprotected wood swelling and shrinking under the influence of rain and sun.
---
Click here for a step-by-step slideshow of how
CTA's products can bring back even the worst deck
---

Outlast Inside Satin is the premier interior treatment designed with log home wall and trim surfaces in mind. Available in clear, light and medium toners, the finish is "tough as nails", but allows interior log moisture vapor to escape without clouding the finish.

---
Pro-logue Concentrate™ is a highly concentrated product used extensively for fast and efficient removal of light soils from exterior surfaces. Pro-logue Concentrate™ is economical, easy to use, and is safe for any and all exterior surfaces. This product yields spectacular results on glass and other non-porous surfaces without the use of squeegees or a ladder.
---

Outlast Deck Oil Especially for Pressure Treated Lumber, Clear, Water Repellent, Exterior Wood Conditioner Controls nail popping, splitting, cupping and warping. Promotes the natural "graying" of the wood color Use alone or as a base coat for oil stains such as Outlast Deck Seal.
---
Outlast KleenStart puts the cleaning power of pure oxygen into your hands. As it dissolves, the crystals of KleenStart release the oxygen bound up inside them—giving you nature's own way of cleaning and brightening. Perfect for siding (both wood and vinyl), decks, roofs, tents, Log Homes, outdoor furniture—anything and everything that requires a good deep-down cleaning and brightening.
LIMITED WARRANTY AND DISCLAIMER
CTA Products Group warrants that their products conform to the chemical description listed in the respective Material Safety Data Sheet and are reasonably fit for the purposes referred to in the Directions For Use listed on the product labels and in the Technical Data Sheets. Buyer assumes all risks of use and handling not in strict accordance with The directions provided. CTA Products Group makes no other express or implied warranty of fitness or merchantability. To the extent allowed by state law, neither CTA Products Group nor the seller shall be liable for damages resulting from the use or handling of their products not in accordance with the directions provided. CTA Products Group and Seller offer their products and the Buyer and User accept them, subject to the foregoing Limited Warranty and Disclaimer which may be varied only by agreement in writing signed by a duly authorized representative of CTA Products Group.